Labour's right wing draws up new plan to undermine Jeremy Corbyn
Exclusive
: Proposed rule change would likely marginalise Corbyn allies on the party's executive
Click to follow
Indy Politics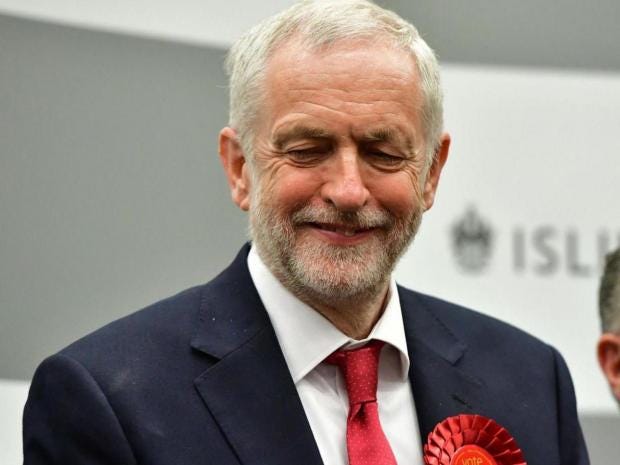 It is, of course, the Neo-Liberal Ideologues. It is the same ideology that is preventing the EU itself from Getting back to a position of More Europe and less Brussels. Subsidiarity is the key concept which Neo-Liberals do not understand. Although it is supposedly a Free Market Creed. Its theories have always lead to great centralisation and promotion of Corporate Monopoly. So whilst talking of Light Touch, smaller Government and so forth the opposite is in fact true.
Ideologues cling to their Beliefs even in the face of overwhelming evidence that they are wrong, It is called Confirmation Bias.
As the saying went in the Film Idiocracy, Because
" Markets " "it's got Electrolytes".


It will be interesting to see how developed The New Political Theory behind Labour 2017 is or turns out to be. What we are going through is a Paradigm Shift and I think it is a mistake to see The Labour 2017 Momentum movement as a Throw Back. If we are entering as I believe a Post-Capitalism/Socialism non-Binary Pragmatic Political Economy matters such as Monetary Creation and Distributive Credit Money creation as opposed to redistributive Debt Based Money and Aggregate demand control taxation policies. With this change in focus, the Economic Metrics will change.

The Magic Money Tree debate is the greatest Litmus test to this question
Last Thursday's Question Time yet again had an appalling parade of Ignorance from All of the panelists, regarding the Magic Money Tree, It is this lacuna in the Understanding of Banking and Finance that is frustrating n intelligent debate on how as a society, locally and globally we harness the huge wealth and potential of our Human Family. Again Vested interests and Confirmation biases prevent intelligent people from considering the evidence. The IMF and The Bank Of England have both issued research papers on the question as has the Bundesbank but a "Def Un" continues to be Copped, by those most advantageously positioned at the Neo-Liberal Troughs, in the capital cities across the Washington Consensus. "Turkeys do not vote for Christmas."
What are we to do with the Wilful ignorance of the political, Media and Economics So called Elites. The Poll Snack Quiz for the MP survey I made about 4 days ago and it has been taken 25,000 times, Some people are obviously interested. The quizzes are embeddable I made them for David Malone's Web Site. He is trying to get Monetary reform back into the Green Party Manifesto 2015´s EC661 was dropped in the 2017 manifesto.
http://davidmalonegreenpartycandidate.weebly.com/magic-money-quiz-answers-and-contact-form.html
The Poll Snack Quiz is a drop down menu on the home page. Let me know is you want me to email you HTML or JavaScript to embed the quizzes on your own Blogs or websites. rogerglewis13@gmail.com


I am A Welshman and support Plaids wish for an Independent Wales, I supported Scots independence as well. I do think the federated pound sterling idea floated by Gordon Brown makes very good sense even with independence a federated Pound for the Home Nations makes a great deal of sense.
I also consider complementary currencies to be essential to subsidiarity in politics and Economic sovereignty Bernard Leitaer has informed much of my own Cryptocurrency development work on this question.
On Brexit, the EURO is also in need of a democratic overhaul and I wrote this on that question which you might find interesting.
This Question is also pertinent to the Tory Party. Julian Greens new Change Hard Slogan is a bit clumsy But what the Tories are sensing, all be it a bit late, but it is good that they are is that there is a Paradigm shift occurring, we usually identify them several years later, Edmund Burke said "50 years behind Hand"
"It is very rare indeed for men to be wrong in their feelings concerning public misconduct; as rare to be right in their speculation upon the cause of it. I have constantly observed that the generality of people are fifty years, at least, behindhand in their politics. There are but very few who are capable of comparing and digesting what passes before their eyes at different times and occasions,"